Raised Slant and Bevel Markers
Slant memorials sit above the ground and the front slopes at a steep angle. Because of this slope, families are able to identify their loved ones memorial from a distance. This memorial can be set directly on the ground or can also be set on top of a base to raise the height. This style allows for a nice size surface for the engraving and design. Bevel markers are sloped so that the back of the memorial is slightly higher than the front of the memorial. This style is easy to read when standing close to the memorial. A bevel marker can be personalized with a fitting design and inscription for your loved one.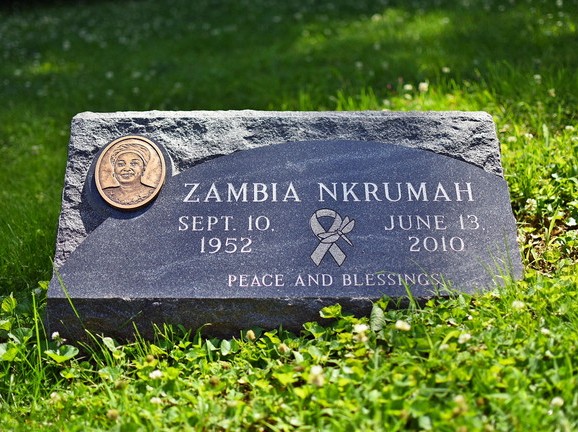 Testimonials
Thank you for your service. Jennifer is an exceptional person, showering professionalism, friendliness, and courtesy at a very difficult time.
-Elizabeth J Boyd
Jennifer is an Exceptional Person
The monument looks so good! I can almost feel the "Memphis" of it all.
-F. Ty Edmondson
I can almost feel the "Memphis" of it all.
You have really given us something special for our families for Christmas and we appreciate it so much.
Thanks so much and Merry Christmas!
-Heather Perry
Given Us Something Special
Thank you, Scott, for your tremendous service to us.
Thank you,
Brulinda Cobb
Tremendous Service
I'm emailing to give a GREAT BIG thank you to your staff at Crone Memorial. I am so pleased with their services. I had to let you know that you all are highly recommended by me.
-Stephanie Burnette-Winston
Highly Recommended
Kevin,
The sign does look fantastic. Thank you so much for a quality job. Outstanding!
-Bob Hale
Outstanding
Mr. Kevin Williams,
My family and I appreciate your kindness when helping us with the headstone for my husband, Eddie Irions. His is beautiful and we shall always appreciate your kindness.
With Appreciation,
The Irions Family, Eddie Jr., Sheila, and Shirley
We shall always appreciate your kindness!
When I tell you Mr. Kevin Williams of Crone Monument is the best, he helped me to feel relaxed and comfortable in choosing a headstone for my husband, I wanted my husband's personality as well as hobby in his headstone because he liked to play golf. We have a picture of him in his swing and swag, well Kevin engraved the picture in his headstone and I have received so many compliments of the uniqueness and beauty of Larry's headstone. Oh, and did I mention reasonable to your taste and style. I wish I could insert a picture of my husband's headstone. Thanks, Kevin, And keep up the good work!!!
-Sheron Anderson
Helped me feel relaxed and comfortable.
Thank you so much for all your help. Mr. Morris truly appreciates everything as do my wife and me.
-Chris Bennett
Truly Appreciate Everything
For the record, we have used Crone Memorials several times in recent years, most recently earlier this summer. Scott Pioreck, Jennifer Russell and Michael Davis always went above and beyond to provide us with the most sensitive, kind, efficient, and superb service. They communicated clearly, frequently, and promptly – and delivered exactly as promised. I cannot praise their efforts enough. What a wonderful team. Thank you!
-Denise Taylor
Went Above and Beyond