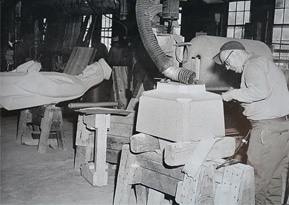 Crone Monument was established in 1926 in Memphis, TN by George E. Crone, Sr. After Mr. Crone passed away, Mrs. Maggie Crone ran the company with the help of her young son George E. Crone.
George continued to grow the company services by expanding his marketplace. He purchased Jackson Marble Works from the Ingram family in Jackson, TN. He further expanded his product line to include more custom design work for memorials both granite, marble and bronze.
Due to the creative nature of the business it was only natural for him to cross over into producing more Architectural Memorials, Civic Memorials, and various signs for not only the real estate market but the various cities as well. Crone has created numerous customized estate memorials and mausoleums utilizing the old world craftsmanship that can be seen throughout Western Tennessee.