Lee Bust Removed Today For Refurbishment
http://www.artswfl.com/public-art-2/fort-myers-river-district-public-art-2/robert-e-lee-bust/robert-e-lee-bust
Lee bust removed today for refurbishment; will return in 8-10 days (05-30-14)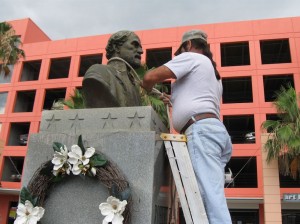 In need of some work, the Bust of Robert E. Lee located in the median on Monroe Street (across from the Art League of Fort Myersand the City of Palms Parking Garage) was removed today by members of the Major Footman Camp 1950 SCV.
"The Robert E. Lee Bust is on it's way to be refurbished," advises Adjutant T.M. Fyock. "Several members of the Footman Camp were on hand to complete the task of takin' Robert down and sending him on his way to be cleaned and polished." The Fort Myers chapter of the United Daughters of the Confederacy and Major Footman Camp 1950 SCV maintain the memorial, which honors Lee as the namesake of Lee County.
The bust was sculpted and cast in bronze in Italy by a sculptor named Aldo Pero. The work was commissioned at a cost of $6,000 by the Laetitia Ashmore Nutt Chapter of the United Daughters of the Confederacy, chapter 1447. The bust was hoisted into place by the Crone Monument Company of Memphis, Tennessee and unveiled in a dedication ceremony that took place on January 19, 1966, a date selected to mark the occasion of the 159th anniversary of Robert E. Lee's birth. The bust rests on a shaft of gray Georgia granite which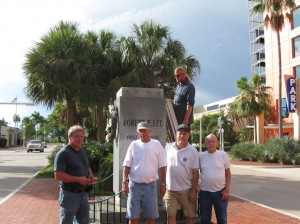 sits, in turn, on a concrete base which houses a dozen Civil War relics collected from Harper's Ferry, Manassas, Gettysburg and several battlefields in Virginia.
Wink TV was on had to cover the removal. Their coverage will air tonight at 10 and 11 p.m.
"Robert should be back up within 8 to 10 days and will be as shiny as a new penny," Adjutant Fyock promises.
The Robert E. Lee Memorial is one of the public artworks that is visited on the True Tours Public Art Walking Tour. To hear the complete story of how and why Capt. F.A. Hendry nominated Robert E. Lee to serve as namesake of the new county when it was being formed, please call True Tours at 239-945-0405 for days, times and reservations.